Join us on October 20 for "Walk in the Park" at Ralph Edwards Park in Truth or Consequences!
This annual fundraising walk honors survivors, caregivers, and those we have lost to Cancer. All funds raised stay within Sierra County. Door prizes, music, and food are part of the fun.
Can't make it but still want to donate? Visit our Donations page!
Registration cost is only a $5.00 donation and is tax deductable.
PARTICIPANT INFORMATION:
Pick up your Walking Sticks from SCCA in the Park – if you have additional sponsored money to turn in, you can do so when you get your stick!
The map indicates stores that will be open and sponsors for this walk.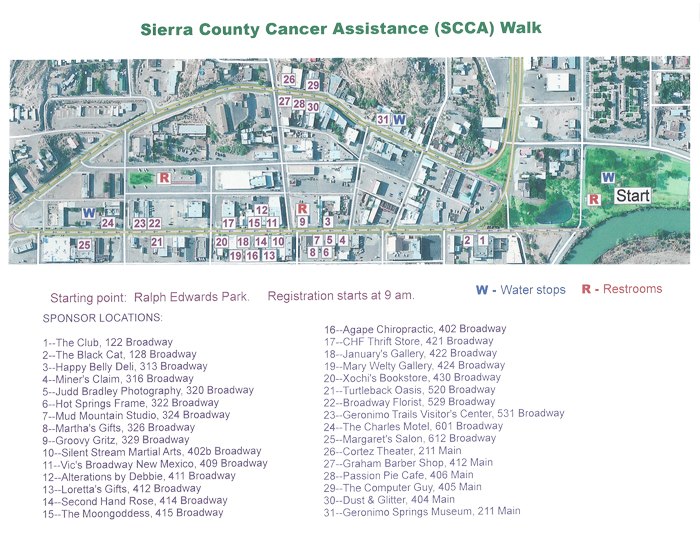 The Walking Stick has a purple shoe lace stapled to it. We encourage you to go to each of these stores and ask if they have a sticker to attach to the shoelace. Businesses will staple a sticker to your shoe lace if they have one. All of the stores will not have a sticker, that will make it fun for the stores and you! Some of
these stores are going to have a special something to give you also so make sure you have your walking stick and go inside each one listed on the map.
You can only get 1 sticker per store – you will not need to go to the store again unless you want to browse!
Water stations and designated restrooms are shown on the map.
The walk downtown is 1.25 miles from the park. If you are keeping track of your miles you will need to come back to the park and add another shoe lace to your walking stick; this will help you keep track of your miles! If you want to walk the park only, it is .25 miles around, so 4 times around will get you another shoelace!
After you are done with your walk come back to the SCCA tent and collect items that we have for you to take home.
There will be a prize for the most miles walked!!!
THANK YOU FOR COMING AND SUPPORTING SIERRA COUNTY CANCER ASSISTANCE!!!